ATLANTA, Ga., April. 25, 2023 (SEND2PRESS NEWSWIRE) — Down Payment Resource (DPR), the housing industry's leading technology for connecting homebuyers with homebuyer assistance programs, issued its Q1 2023 Homeownership Program Index (HPI). The firm's analysis revealed a 0.5% uptick in the number of homebuyer assistance programs available to help people finance homes, raising the number of programs to 2,362.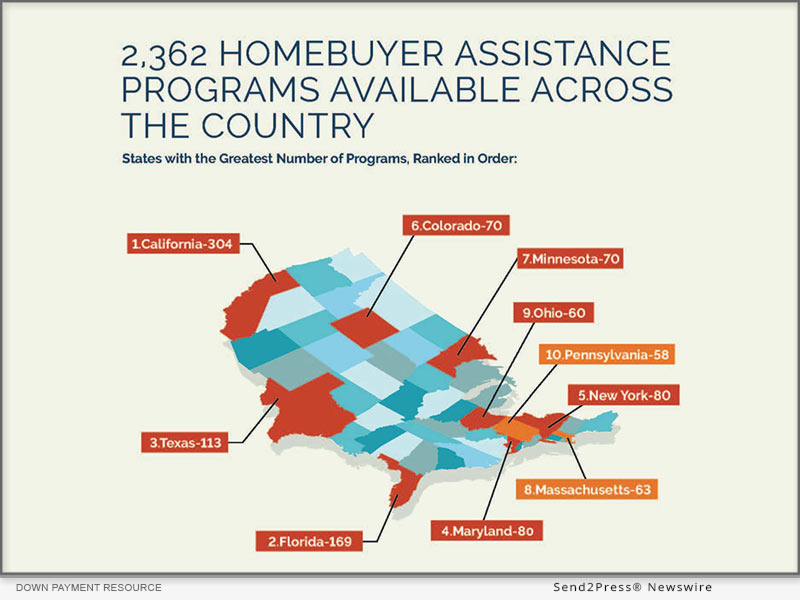 Image Caption: Down Payment Resource Issues Q1 2023 Homeownership Program Index Report.
Methodology
Published quarterly, DPR's HPI surveys the funding status, eligibility rules and benefits of U.S. homebuyer assistance programs administered by state and local housing finance agencies, municipalities, nonprofits and other housing organizations. DPR communicates with over 1,200 program providers throughout the year to track and update the country's wide range of homeownership programs, including down payment and closing cost programs, Mortgage Credit Certificates (MCCs) and affordable first mortgages, in the DOWN PAYMENT RESOURCE® database.
Key Findings
The Q1 2023 HPI examined a total of 2,362 homebuyer assistance programs that were active as of April 7, 2023. Key findings are as follows:
The majority of down payment assistance (DPA) programs are forgivable.8% of DPA programs — which take the form of grants, community second mortgages or a combination of the two — are forgivable, meaning that they never have to be repaid as long as program conditions are met. Of all types of homebuyer assistance, 43.4% percent of programs are forgivable. The share of both categories of forgivable programs increased fractionally over last quarter.
Incentivized programs are on the rise. There was a 3% increase in incentivized programs — which are geared toward public servants such as teachers and protectors, Native Americans, people with disabilities and veterans, among others — over the previous quarter. Programs with incentives now make up 17.5% of all available programs.
Support for multifamily properties increased. Programs that support multifamily homeownership saw a 2.2% increase over the previous quarter. These programs now make up 29.8% of all homebuyer assistance offerings.
There was an uptick in programs without a first-time homebuyer requirement. DPA programs without a first-time homebuyer requirement grew by 2% in Q1 2023. 39.7% of all assistance offerings do not feature a first-time homebuyer requirement.
"The increase in down payment assistance for several consecutive quarters represents growing opportunities for homebuyers that have been traditionally underserved," said DPR Founder and CEO Rob Chrane. "DPR will continue to raise awareness about the myriad assistance programs available and enhance our solutions that enable housing professionals to help more people achieve their homeownership goals."
A more detailed analysis of the Q1 2023 HPI findings, including infographics and examples of many of the programs described in this release, can be found on DPR's website at https://downpaymentresource.com/professional-resource/q1-2023-homebuyer-assistance-program-trends/.
For a complete list of homebuyer assistance programs by state, visit https://downpaymentresource.com/wp-content/uploads/2023/04/HPI-state-by-state-data.Q12023.pdf.
About Down Payment Resource:
Down Payment Resource (DPR) is an award-winning technology provider helping the housing industry connect homebuyers with the homebuyer assistance they need. With toolsets tailored for real estate agents, multiple listing services and mortgage lenders, DPR's technology empowers housing professionals to make affordable home financing opportunities more accessible while growing business and forging referral partnerships. The only organization to track the details of every U.S. homebuyer assistance program, DPR frequently lends its expertise to nonprofits, housing finance agencies, policymakers, government-sponsored enterprises, think tanks and trade organizations seeking to improve housing affordability. Its technology is used by five of the top 10 retail mortgage lenders by volume, three of the four largest real estate listing websites and 500,000 real estate agents. For more information, visit https://downpaymentresource.com/.
Twitter: @DwnPmtResource #downpaymentassistance #HPIreport #affordabilitycrisis #housingaffordability #mortgage #housingequity
News Source: Down Payment Resource
To view the original post, visit: https://www.send2press.com/wire/down-payment-resource-issues-q1-2023-homeownership-program-index-report/.
This press release was issued by Send2Press® Newswire on behalf of the news source, who is solely responsible for its accuracy. www.send2press.com.